Activation Key Diagnostics
Posted by Aaron Adams on 02 December 2020 09:27 PM
How to generate an Activation Key Diagnostics
If you are seeing a, "Max Activations" error message or other error messages, we can generally resolve this issue very quickly.
Activation Keys are locked to your computer's hardware so if that has changed, you will see this message.
If you recently changed your computer hardware configuration, added or removed a Hard Drive for example or even plugged/unplugged in a simple USB Memory stick. Your computer hardware needs to match its configuration when you initially activated it.
Sometimes the software will incorrectly identify that your hardware has changed for example if a recent Windows Update was completed. We, can diagnose this issue with a diagnostic tool to confirm and resolve the issue.
1) Locate your Activation Key and make sure you can access it. You will need to copy/paste the Key into your Support Ticket in next step.
2) Generate an Activation Key Diagnostic file and provide that to Support in the next step as well.
You can download the tool here: License Diagnostic Tool
Once you run the file, you will need to click "Yes" to approve any security warnings.
After clicking "Yes" or acknowledge any warnings, it should look similar to the following: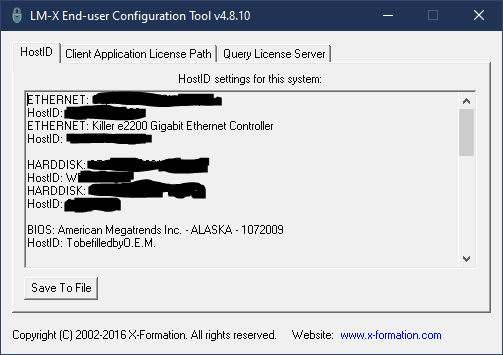 Click "Save to File" to Save the "LmxHostid.txt" file in a place where you can locate it later.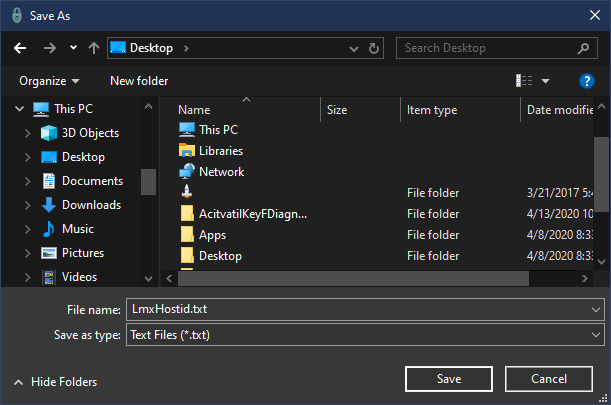 You will need access both your BioCollect Activation Key (step #1) and the "LmxHostid.txt" (step #2) file to attach to your Support Ticket for further assistance.
---